Linking Together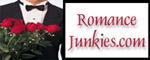 Jannine Corti Petska, Romance Author

Vintage Romance Publishing now has a book club! Check it out.
www.vrpublishing.com where you'll find the sign-up form. !
Diane Wylie (American Heroes) Romance Writer
Terry Spear~Author of Scottish Medieval Romance
Debora Coty, Young Adult Author
Ramona Cecil, Christian Romance Author
CHECK OUT BRENDA COULTER's NEWEST BOOK: AT HIS COMMAND You don't want to miss it!
HFC BANNER
http://www.published.com">Published.Com a Free directory listing service for authors</a>